Immunization Clinic Hours (for regular immunizations and flu shots ONLY)
Click here for information about the COVID-19 vaccine.
Tuesdays 9 – 11 am
Wednesdays & Thursdays 1 – 4 pm
1st & 3rd Thursday of each month 1 – 6 pm
CLOSED FOR HOLIDAY: Thursday, November 11th, Thursday, November 25th (also Friday, November 26th)
No appointment necessary, see map to check-in online.
Flu shots are now available during clinic hours. $35 unless we can bill your insurance. Free for children 18 and under that are uninsured, underinsured, or on Medicaid.
Safety Measures During COVID-19
Please limit additional family members to 1 parent if able
Please wear a mask
If you or your child are ill, please stay home
Thank you for your cooperation.
Check-in for immunizations and we can have your record ready and alert you when it's time to come inside! Just click "Check In" on the map below and then "I've arrived at Henry County" when you're here. Or opt in for texts.
All childhood immunizations are available. Regular childhood vaccines are available for VFC (Vaccine for Children) eligible* children at no charge.
* VFC eligible children are 0-18 years of age who meet one or more of the following criteria:
Enrolled in Medicaid
Uninsured (have no insurance)
Underinsured (have health care coverage but the benefit plan does not include coverage for immunizations)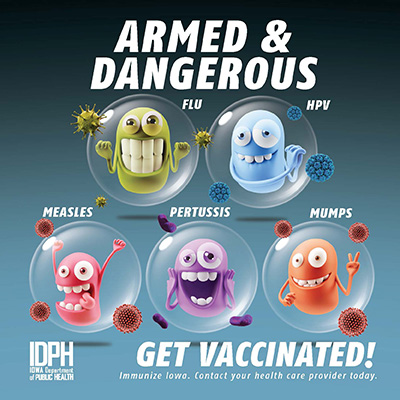 Immunizations are needed before going into 7th and 12th grades.
Every year, human papillomavirus (HPV) causes approximately 31,500 cancers in the United States which includes an estimated 262 Iowans. The good news is over 80 percent of these cancers can be prevented with the HPV vaccine. Vaccinating adolescents now with HPV vaccine will provide protection throughout their lives.
A parent or guardian must accompany the child to sign permission forms prior to immunization.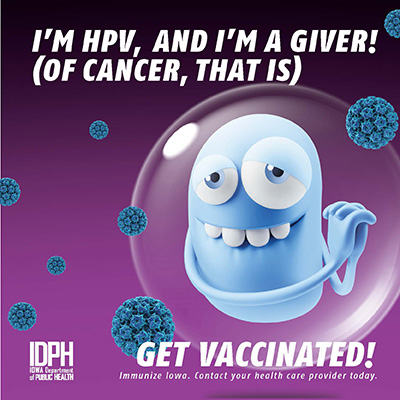 Adult vaccinations include Hepatitis A and B, Pneumococcal, Tetanus/Diphtheria/Pertussis, Measles/Mumps/Rubella, Gardasil, Polio, Meningitis, Varicella, Shingrix and Flu.  TB testing is also available.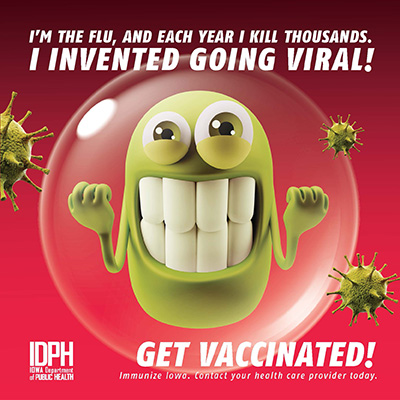 Call us at 319-385-0779 for more information.