Immunization Clinic Hours
Tuesdays 9 – 11 am
Wednesdays & Thursdays 1 – 4 pm
1st & 3rd Thursday of each month 1 – 6 pm
No appointment necessary. COVID vaccines are also available during these clinic times.
TB tests are only given during the Tuesday and Wednesday clinic times and cost $20 (cash, check or credit card).
To request an immunization record, please click here.
All childhood immunizations are available. Regular childhood vaccines are available for VFC (Vaccine for Children) eligible* children at no charge.
* VFC eligible children are 0-18 years of age who meet one or more of the following criteria:
Enrolled in Medicaid
Uninsured (have no insurance)
Underinsured (have health care coverage but the benefit plan does not include coverage for immunizations)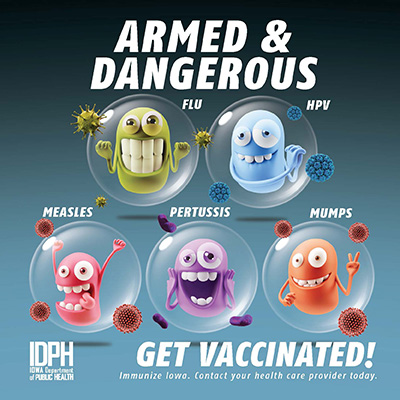 Immunizations are needed before going into 7th and 12th grades. Learn more here.
HPV: HPV-related cancer incidence is high in Iowa, and impacts both men and women. The HPV vaccine is a safe, effective vaccine that can prevent 90% of the 6 cancers caused by HPV including: cervical, vaginal, vulvar, anal, penile, and throat cancer. Vaccinating adolescents now with HPV vaccine will provide protection throughout their lives. Learn more here.
Children ages 11–12 years should get two doses of HPV vaccine, given 6 to 12 months apart. HPV vaccines can be given starting at age 9. A parent or guardian must accompany the child to sign permission forms prior to immunization.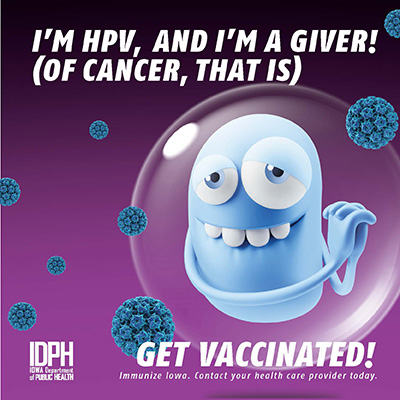 Flu: Everyone 6 months and older should get a flu vaccine every season. We currently have regular and high-dose flu shots available during our regular immunization clinics. Regular flu shots are $35 and high-dose flu shots are $85 if not covered by insurance. Bring your insurance card.
Pneumococcal Pneumonia: Pneumococcal disease is common in young children, but older adults are at greatest risk of serious illness and death. CDC recommends vaccination for all adults 65 years or older. If you are under age 65 talk to your medical provider.
RSV: The RSV vaccine helps protect adults 60 years and older from RSV disease. Older adults are at greater risk than young adults for serious complications from RSV because immune systems weaken with age. In addition, certain underlying medical conditions may increase the risk of getting very sick from RSV and older adults with these conditions may especially benefit from getting RSV vaccine. If you are 60 years and older, talk to your healthcare provider to see if RSV vaccination is right for you. We have a very limited supply of the RSV vaccine so please call ahead – 319-385-0779.
Shingles: Shingles is a painful rash that usually develops on one side of the body, often the face or torso. Shingles vaccination is the only way to protect against shingles.  Adults 50 years and older should get two doses of Shingrix, separated by 2 to 6 months.
COVID-19: COVID-19 vaccines help our bodies develop immunity to the virus that causes COVID-19 without us having to get the illness. Stay up to date with COVID-19 vaccines by following the latest recommendations. Learn more here: https://www.cdc.gov/coronavirus/2019-ncov/vaccines/stay-up-to-date.html
Other adult vaccinations are also available during immunization clinic hours.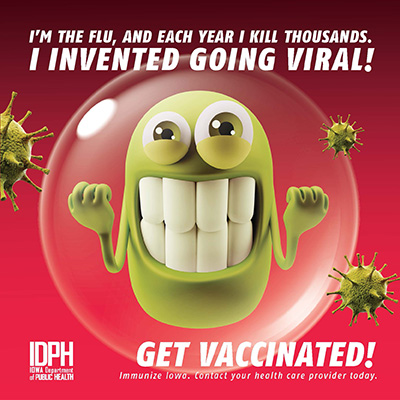 Call us at 319-385-0779 for more information.